Links and Resources
Blood Draws
Our laboratory services are provided by Quest Diagnostics. If you have an order for blood work, please click here to find the location of the nearest draw station.
---
Medication Assistance
For patients who may not have insurance, the following links may help you obtain needed medications at a reduced cost:
---
Vaccine PDFs
For English - What You Need To Know
For Spanish - Lo Que Usted Debe Saber
---
Records Release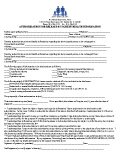 If you need to request another doctor to send your records to us, please click the icon at left to download the Adobe Reader® file, print and then sign a release of medical records form and mail it to that doctor.
If you don't have Adobe Reader on your computer, click here for a free download:

<< Click here to open